VH-AAX (3)* DHC-2 Beaver 1 (c/n 1411)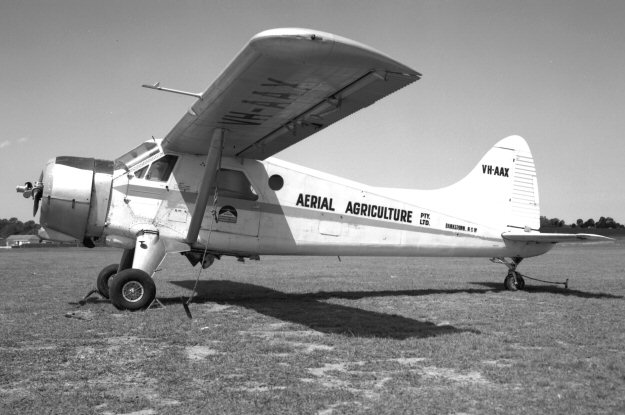 This Beaver was originally first registered in September 1960. Greg Banfield's shot above was
taken at Bankstown in 1965. It was then withdrawn from use in May 1967 and restored in 1969
as a DHC-2/A1 Turbo Beaver with a Garrett TPE 331-61. A photo of it in that configuration,
taken by Neville Parnell at Bankstown in May 1968, appears at the foot of the page. This was
evidently before it was officially restored to the register. Withdrawn from use as such in Feb
1971, oddly it was restored again in March 1973 as a 'straight' DHC-2 with a Wasp Jr. Greg's
second shot immediately below shows it at the same venue in November 1982 with it's '30 Years
of Flying' for Aerial Agriculture decal (enlarged). Yet another restoration in 1986 saw it
returned as a Turbo powered machine again for Aviation Industries Pty Ltd photo # 4) It is still
current as a Turbo DHC-2/A1 and now flies as a sky diving jump aircraft. Greg Banfield saw it
again in September 1997 at Bankstown in that role (foot of the page).

* The second VH-AAX was slated to be the Tiger c/n 82807, ex R4890, but this was not taken
up. (It eventually became VH-BKP).