VH-AAO (1) de Havilland D.H.84 Dragon (c/n 6112)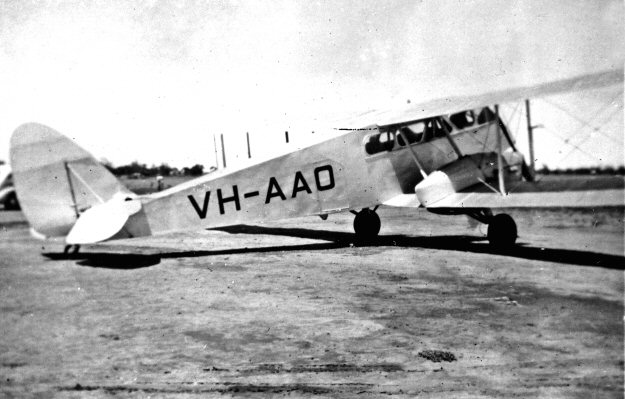 VH-AAO was one of the last imports to arrive in Australia at the outbreak of WW II. It was
the former G-AEMK and was originally a survey machine. It was impressed into the RAAF
as A34-5 a couple of months after it arrived early in 1940, and its survey cameras and equip-
ment were put to good use with the RAAF Survey Flight, photographing terrain at 10,000 ft
all over Australia. It was released to Butler Air Transport in July 1943 and restored to the
register as VH-AAO. It is seen above in this cropped shot from the Roger McDonald collect-
ion flying a BAT service at Lismore, NSW, in February 1947, having flown a service from
Sydney.. On 20 December 1947 it was literally blown away by a .wind storm while tied down
at Coonamble, NSW and ended up in the Castlereagh River nearly a mile from the airfield. It
was a total loss. The wartime shot immediately below, from the Geoff Goodall collection, shows
it in camouflage. Finally, at the foot of the page is a photo from the Hood collection, via Barrie
Colledge, showing VH-AAO at an unknown location weasring what appears to be a Castrol Oil
badge on the nose.