VH-AAH (3) Bristol 170 Freighter (c/n 12774)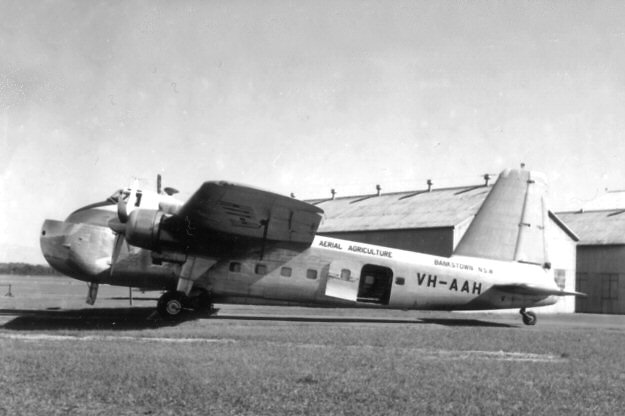 Originally built as a Mark 2 Freighter for the U.K. Ministry of Civil Aviation in 1948 as G-AIFN,
this aircraft soon was exported to Cie Air Transport in France as F-BENC. It went to French
Indo-China in 1952 as F-VNAK for Air Vietnam. Following the debacle at Dien Bien Phu it
fled to Australia and was sold in 1957 to Aerial Agriculture Pty Ltd of Bankstown, becoming
the third aircraft to bear the registration VH-AAH (there have been at least three others since).
The photo above, showing it with the clam doors open, was taken at Bankstown in 1957 by the
late Peter R. Keating (via the Eric Wagner collection). In 1960 it was to have been leased to
Papuan Air Transport but the deal fell through before the aircraft departed for New Guinea. The
shot below, from the Geoff Goodall collection, was taken by Eric Allen at Camden, NSW and
shows the aircraft all decked out in Patair livery. On 18 December 1961 the aircraft crash
landed at Wollongong following a simulated no.2 engine failure, wherein the prop remained un-
feathered. Power was not regained, causing the aircraft to lose height. The Bristol collided with
trees during an attempt to reach a suitable landing area, and was written off.