VH-AAF Waco EGC8 (c/n 5051)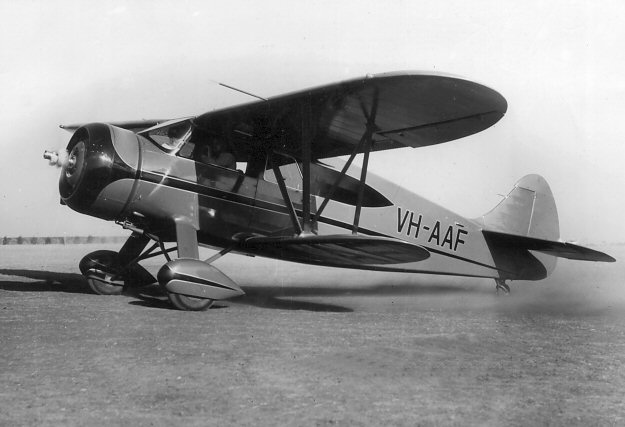 With a roar of its mighty 320 hp Wright R-760-E2 engine, the elegant Waco Custom Cabin biplane
sends up a spray of dust as it positions for take off on a dusty Mascot field. This beautiful machine
was originally imported by Adastra Airways Ltd. in 1938 This concern was the Australian dealer
for Waco aircraft, and, although they operated a scheduled service from Sydney to Bega, the Waco
wasn't one of the aircraft used on the airline service. My shot, above, shows it pre-WW II. In an
almost exact positioning, although sans spats, it is seen below in this nice color shot from Mike Oram
(photo by Kim Oram). Following that (no 3) is a photograph by John Hopton (via Geoff Goodall)
of the Waco at Bankstown in 1962, the rego having been moved to the rudder (almost mandatory
in that era). It had a striking dark maroon overall finish. -AAF was owned, in those days, by
George Falkiner of "Haddon Rig", Warren, NSW who was a wealthy grazier influential in a variety
of aviation ventures. He actually owned the Waco for several years. Following that image, at the
foot of the page, is a shot by Greg Banfield of -AAF taken at Bankstown on 12 May 1966 showing
the old Waco all done up as the

"Jolly Roger"

. I have appended an enlargement of the titling on the
rear fuselage indicating the range of activities the for which the aircraft was available. Following a crash
in Darwin, NT in 1973, -AAF was ultimately rebuilt in 1985 becoming VH-CGF. It subsequently was
withdrawn from use in 2006.