VH-AAD de Havilland D.H.90 Dragonfly (c/n 7508)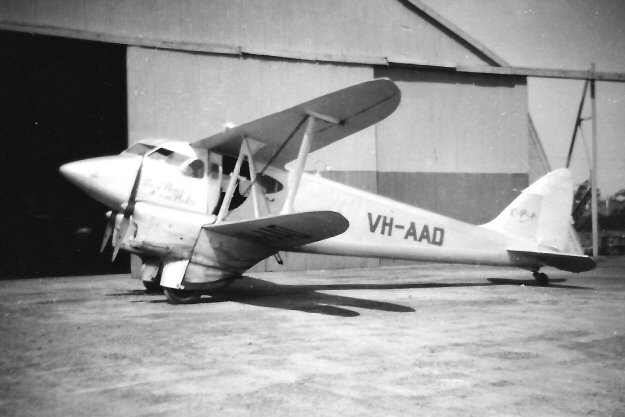 Formerly G-AEDT, this Dragonfly was imported for Adastra Aerial Surveys in 1938. It did survey
work for various state government agencies and was used for military surveys during WW II. In
June 1951 it was sold to Bush Pilots Airways. In my shot, at Cairns, above, it is wearing Bushies
titling. Unfortunately, my camera in those days was extremely poor and the sharpness is just not
there.. VH-AAD was sold to Kingsford Smith Aviation in 1954, who, two years later, sold it to
the Griffith Aero Club.. See my image below, (provenance lost in time.). The club used it until
August 1963 when it was sold to Charles Masefield and Lord David Trefgame of London, U.K.
. These two gentlemen had ferried a new Beagle Airdale (G-ASBI) out from the U.K. to Adelaide
in June 1963, and purchased the Dragonfly to take back to England. In a ceremony at Banks-
town on 2 November 1963 it was christened

'Endeavor'

and had been finished in a gorgeous
blue and white paint job as seen in David Eyre's shot at the foot of the page. It arrived at Gatwick
on 24 December 1963. After this historic (heroic, if you ask me) flight, the Dragonfly had a some-
what chequered career. It was sold to sold to the Tallmantz Museum Collection in July 1964 and
was flown to the US (via Iceland) by Messrs Charles Masefield and Lord Trefgarne. There, it was
ostensibly registered N2304, although all indications lead to the fact that it was never so painted,
but remained as G-AEDT in its time in the U.S. Tallmantz didn't keep it long for some reason and
it was sold to a company in Omaha, Nebraska. From there it went to the J.L. Tetling collection of
Boise, Idaho where it deteriorated badly until September of 1986 when the entire Tetling collection
was sold at auction. It was then acquired by Brian Woodward of Wessex Aviation and Transport
Ltd of of Somerset and returned again to England. Some eighteen months of restoration occurred
when it flew again at the Badminton fly-in of in July 1988. In 1996 it was sold to Colin Smith of the
Croydon Aircraft Co of Mandeville, New Zealand and arrived in a container in that country in
December 1997, making yet another "first flight" in April 1998 at Mandeville. It was registered
ZK-AYR, this rego not having been allotted back in the 1950s. . In 2012 the Dragonfly appeared
in an advertisement for sale in the US 'Trade-A-Plane" magazine for close to 2 million dollars.
. Presumably as of 2015, it is still in New Zealand.