VH-TGB (2) Beech 65-A80 Queen Air (c/n LD-157)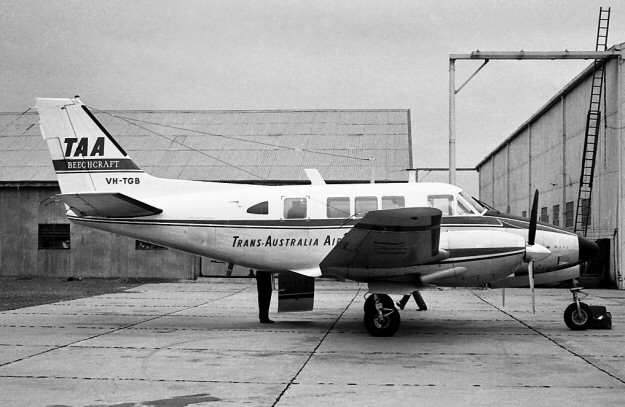 TAA acquired four Queen Airs in 1964. One (-TGD) went to Papua/New Guinea. The other
three, including this one were used for airline services in both Tasmania and Queensland. The
Tasmanian internal services, which flew Hobart-Devonport-Wynyard-Smithton were short-lived.
They lasted a little longer in Queensland and by 1969 Twin Otters were being used instead. At
least some of Queen Airs went to the RFDS. These flights were flown as state government essential
services, and were subsidized by their respective states. In fact, Queensland still subsidizes the routes
that the Queen Airs once plied. A mix-up in registrations indicated that this one was originally to have
been -TGC, but in the event, that rego went to LD-172, and LD-157 became -TGB. It is seen above
at Bankstown in 1966 in this photo by David Carter. The color shot below is from the CAHS archives.
-TGB was sold to SAATAS in Indonesia in 1971 as PK-LEC.